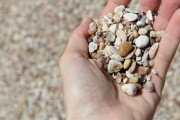 Temple, Texas, April 1, 2016 (Newswire.com) - SBF Construction offers all types of raw landscaping materials. If there is a material they don't carry on stock in their yard, SBF Construction can still get it for their customer's landscape project. SBF Construction provides dump truck hauling of any material(s) a customer needs for the yard, new construction, driveway or the garden.
SBF Construction carries a full stock of material at their Temple, Texas construction yard. Landscape materials in stock include: concrete and brick sand, washed river rocks (1 inch, 2 inch, and oversize), pea gravel, crushed rock, base, crusher fines, oversize landscaping rocks, crushed granite, cedar mulch- single and double grind, red mulch, turkey compost, wood chippings, top soil, sandy loam, and specially mixed garden mix soil.
Customers can bring their pickup truck or trailer and to be loaded by SBF Construction at the yard. SBF Construction will deliver landscape material such as topsoil, mulch, rock and sand to anywhere in Bell County Texas.
Share: