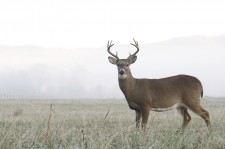 Temple, Texas, August 22, 2016 (Newswire.com) - ​A hunting and outdoor company called Skunk Fusion is bringing back an old trick with a new twist.
Skunk cover scent is back! In the years before scent elimination sprays, hunter's soaps, anti-microbial underwear, camo carbon suits and ozone machines, savvy hunters swore by cover scents – especially skunk cover scent! Hunter's swore by it because it worked!
Skunk Fusion is the only cover scent that works ever time

Dr. Jame Kroll, Whitetail Deer Expert
Skunk Fusion is a two-part synthetic scent. Like two-part epoxy, it doesn't activate until mixed. When mixed, Skunk Fusion creates an intense skunk odor (just like a real skunk) that is designed to mask human scent.
Skunk Fusion's naturally intense skunk odor confuses (without alerting) the nose of deer and other big game. It entirely "covers" human scent.
Dr. James C. Kroll (aka, Dr. Deer) is THE undisputed expert on white-tailed deer, with over four decades of experience studying, living with, writing about and hunting whitetails. Over his long career, Dr. Kroll has been responsible for major discoveries and advances in deer management and hunting, including the first trail cameras, food plots, deer feed, and major discoveries about deer behavior. Writing for 37 magazines and appearing on three popular TV programs, Kroll has garnered a stellar reputation for "telling it like it is!" He seldom endorses any product, and when he does, it is after exhaustive testing to determine if the product deserves endorsement. He is NOT a "name for hire." He has decades of experience with various cover scents, and has used skunk scent in one form or another his entire hunting career. "Skunk Fusion is the only cover scent that works ever time," he says, "and Skunk Fusion is not only the most convenient to use, but the most effective." Kroll gives his wholehearted endorsement.
The Skunk Fusion Weekender has two vials of the exact same chemical used in the Skunk Fusion Seasonal package only in a "weekend" tester. This works best for hunters who are only deer hunting once or twice a year.
Source: Skunk Fusion
Share: